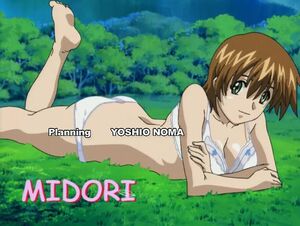 Midori Chitose, the main female lead, is an outgoing and cheerful girl who seems to know Yuusuke before they actually been introduced and is in love with him. She seems willing to do anything for him, even filling out a form of perverted questions the Baka Trio gave her, hoping it will please Yuusuke.
In the opening scene of the series, Midori narrates a tale about two people who were in love, but their love was forbidden at the time and they could not stay together. They promised each other to meet again in another life, hinting that Midori is the girl from the tale and somehow retained her memories, while Yuusuke is the boy from the tale, but he has not retained the memories of his past life.
She is also noted to have D-cup breasts. She seemingly has no grasp at the effects some of her antics have wrought, such as climbing on top of a bedridden Yuusuke in the nurses' office while in lingerie, and hanging on to his arm after class ended. Her given name means "green" in Japanese, probably in reference to the name "Green Green".