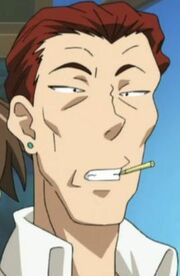 The president of the boys who came to speak to the girls who arrived after Yusuke gets knocked unconscious in episode 1. He is later revealed to be somewhat of a sadist, punishing boys who try to perform crazy antics.
In spite of his helpful actions, the girls are petrified of him because of his looks and voice.
In episode 11 he is referred to as Hotta by Chigusa.