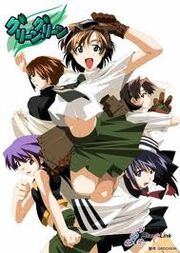 Leave this wiki as fast as you can, the fact that you went out of your way to find information on something so insignificant and terrible is a true sign of you wasting your life away. This wikia contains information about the anime series Green Green. Feel free to browse through this wikia for more information. If you see any pages blank or any stub articles, feel free to edit! You can also help expand this wikia by creating pages and adding images.
Meet the main characters (Click a picture to go to their page)
Anime plot
Edit
Green Green takes place in the countryside of Japan, at the isolated all-male boarding school of Kanenone Gakuen (translated literally in English as "Sound of the Bell Academy"). Since there are no females for miles, the school is advertised as the "last remaining paradise for men on Earth". The Kanenone school board has begun talks to merge with an all-girl boarding school, in hopes of becoming a Co-ed boarding school. This has the hormone-driven, girl-deprived male body of Kanenone thrilled.
Both schools decide to have a test run of sorts, having the girls from the all-girls school stay at Kanenone for a month, in order to see how the boys and girls get along. Yuusuke Takasaki, the main character, has his hands full with his "perverted" roommates, nicknamed the Baka ("Idiot") Trio. The Baka Trio - which consists of Bacchi-Gū, a fat pervert, Ichiban-Boshi, a self-proclaimed ladies man, and Tenjin, a gentle giant who has a "little sister" fetish - are incredibly excited that there will be girls around.
When the buses containing the girls arrive, one girl named Midori Chitose excitedly disembarks first, leaping at and happily hugging a confused Yuusuke. Who is Midori and how does she know Yuusuke? The series focuses on answering this question and the antics of the Baka Trio.
Quick Links
Edit
Main: Green Green (Show page)
Green Green on other wikis
Edit
Community content is available under
CC-BY-SA
unless otherwise noted.